What are the advantages found in the process of using the machine
Editor: Senyuan panel maker Time: December 12, 2020
---
One of the more important links in the production of blockboard is the board splicing machine. It is mainly used for small diameter logs, rotary cut wood cores, veneers to make standard lath, and then to make a whole solid core board through plate arrangement, gluing, extrusion, heating and other processes. The machine is mainly composed of hydraulic system and pneumatic system.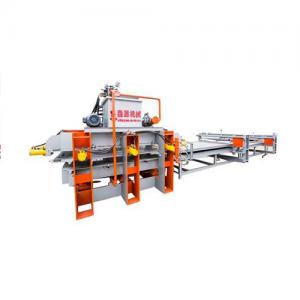 Advantage one: less labor. To produce the same output of ecological board, we need to use about 15% less workers.

Advantage two: the labor intensity of workers is low. Pave with 8-foot gluing machine.
Advantage 3: the labor skill requirement of workers is low. Because it's using equipment to control quality.
Advantage 4: stable product quality.
Advantage 6: lower requirements for managers (workshop managers).
Advantage 7: no increase in cost. The cost is increased by 4.5 yuan. The labor cost is reduced by 1.6 yuan, the product quality is stable, the market price is increased by 3 to 5 yuan, and the raw materials are saved by 1 to 2 yuan.
The machine consists of main engine, high frequency generator, hydraulic station, feeder, unloading table and control system. The machine is controlled by PLC. It has the characteristics of high automation, simple operation, low labor intensity, short splicing cycle and labor saving. It is an ideal equipment for Glulam, panel splicing and composite solid wood edge sealing. The splicing size of the machine is 1300 * 2500mm, and the thickness can be less than 60mm or 150mm according to the model. When users have special requirements, it can be explained in advance that customized configuration design can be carried out. The equipment adopts high frequency heating to make the glue solidify quickly in a short time. The whole working process is about 3-5 minutes.